Although close to Kathmandu, Chandragiri Hills feels like a different world altogether. It is truly a land of both refuge as well as adventure; of solitude and togetherness; of physical wellness as well as spiritual awakening; of fresh summer breeze and white winter wonderland too. There is no shortage of activities and entertainment here.
---
The View Tower
Learn More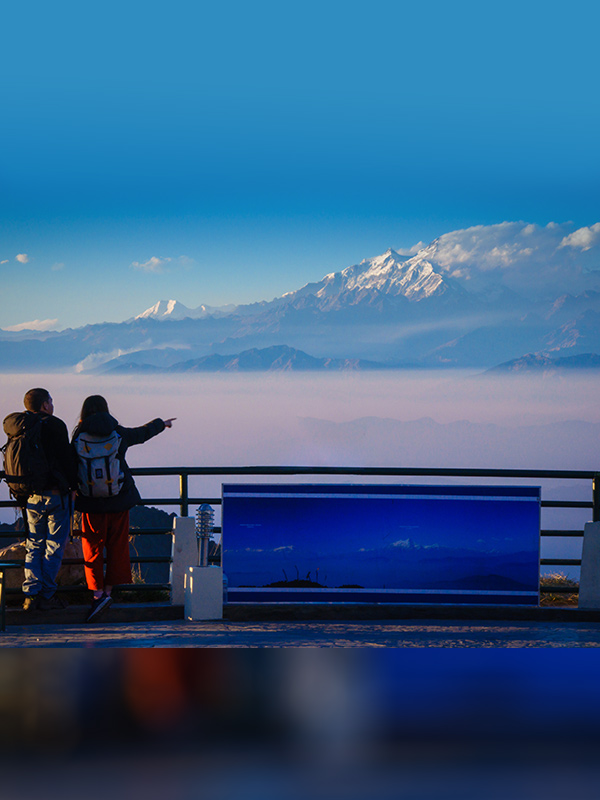 The View Tower
On a clear day, Chandragiri Hills opens up to a postcard-perfect view of the Himalayas. The Observatory takes that experience a couple of notches higher by providing a vantage point advantage, allowing visitors to enjoy an unobstructed and panoramic view of the Himalayas from a higher elevation.
Equipped with telescope facilities, the Observatory enhances the experience of viewing the majestic peaks including the world-famous Mount Everest, Manaslu, Ganesh, Gaurishankar, and several other towering summits. The telescope brings the mountains closer, enabling visitors to observe the intricate details of these magnificent peaks. Aside from the mountains, the design of the observatory allows visitors a 360° view of rolling hills, deep valleys, the sprawling Kathmandu city, and quaint villages all around!
Whether you are a nature enthusiast, an avid photographer, or simply seeking a serene and awe-inspiring environment, the observatory deck at Chandragiri Hills offers a unique opportunity to immerse yourself in the beauty of the Himalayas.
Restaurants & Food Courts
When you visit Chandragiri Hills, you'll discover a premium destination that caters to all your needs, including a wide array of eating out options. With its diverse collection of restaurants, food courts, bars, and eateries, there's something for everyone, regardless of age, taste or preference. From mouth watering street food to exquisite restaurant dining, lavish buffets, cozy cafes, and even a vibrant bar, Chandragiri Hills offers a solution to satisfy every craving and preference.
Bar@2520
Café Fountain
Beer garden
Food Courts & Restaurants
View Tower Restaurant
Amusement Park
At Chandragiri Hills, adventure awaits with an array of thrilling activities. Both adults and children can take the plunge on the zipline, soaring through the air with an adrenaline rush like never before. Feel the thrill of a free fall, defying gravity and experiencing an exhilarating drop. Challenge yourself with wall climbing. Whether you seek an adrenaline-pumping adventure or a test of courage, Chandragiri Hills offers a range of heart-pounding activities to satisfy your thrill-seeking spirit. Get ready to embark on unforgettable adventures amidst the breathtaking beauty of the hills.
Zipline
Ampitheatre
Wall Climbing
Chandragiri Hills is thoughtfully designed to be a haven for everyone, including your children.
The play area offers endless entertainment with an array of thrilling recreational equipment, such as climbing ropes, swings, slides, seesaws, and a jungle gym. Do not worry about keeping your little ones entertained while at the Hills. Simply enjoy and make family memories!
Enquire Now
Enquiry and Booking for the Resort and Amusement Park
Whether you wish for a quick day trip, or are looking for a relaxing getaway, Chandragiri Hills has them all. Fill up the form and let us know your requirements. Our customer service representative will get back to you with all the information.
---
+977-01-4314898
+977-01-4312515
sales@chandragirihills.com
---
+977-01-4314898
+977-01-4312515
sales@chandragirihills.com