Snowfall in Chandragiri Hills – Best snowfall experience in Kathmandu
November 16, 2023
Snowfall is not a common occurrence in Kathmandu, but it is not unheard of. An article published in the Kathmandu Post refers to a news article published on January 9, 1945 in Gorkhapatra to recall a rare snowfall in Kathmandu on January 6, 1945 that stayed for several days. Since then the valley has only ever seen a light snowfall on February 14, 2007. Yet, every winter in Nepal (December to February) following a heavy rain, Kathmandu denizens hope to wake up to a city blanketed in white snow. Although a snowfall in the valley like that of 1945 is unlikely, it is still very much possible for Kathmandu residents to see it and live it not very far away from home.
Chandragiri Hills Covered in Snow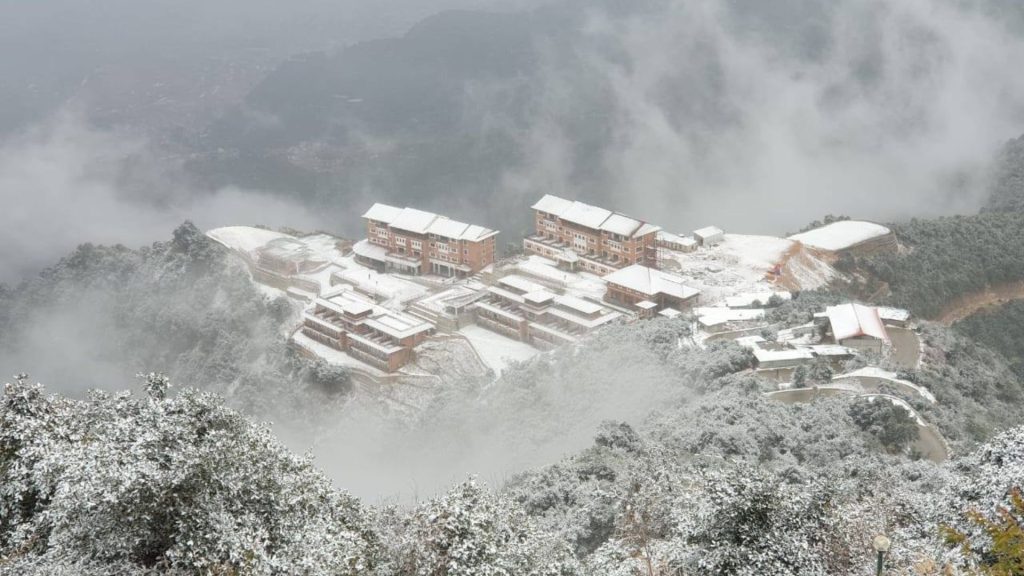 At an altitude of 2,551 meters, Chandragiri is one of the five tallest hills in Kathmandu. To give you an idea, Ghandruk is just 2,012 meters and Jomsom is slightly higher at 2,743 meters. During winter, Chandragiri's high elevation gives it a better position in terms of altitude and temperature for a higher chance of snowfall. A dip in mercury for a couple of days, followed by a freezing rainfall guarantees snow covered hills around Kathmandu. And the best chance to experience it in Kathmandu with ease of access and in luxury is at the Chandragiri Hills.
Temperature in Chandragiri Hills during Winter
| | | | |
| --- | --- | --- | --- |
| Months | Avg. High Temperature | Avg. Low Temperature | Avg. Rainfall |
| December | 12° C | -3° C | 7.6mm |
| January | 11° C | -4° C | 13mm |
| February | 14° C | -2° C | 13.9mm |
How to Ensure You Experience Snowfall in Chandragiri Hills?
If you want to experience a magical snowfall in Kathmandu, all you have to do is keep an eye on the weather forecast and prepare to book the cable car ride to Chandragiri Hills.
Keep an eye on the weather forecast: During winter, mostly late December and January, stay alert about Kathmandu weather. Regularly check weather reports on your weather app. If the temperature has been consistently dipping in Kathmandu for a couple of days and there is a forecast about a rainfall coming in, we highly recommend you to start preparing your outfit.
Book the cable car ticket in advance: One thing we know for sure is that everyone will be rushing to Chandragiri Hills the moment the emerald hills turn white. You do not want to be stuck in the crowd or the endless line to purchase the cable car ticket. Be a step ahead from the rest and book the cable car ticket in advance. The tickets are valid for 7 days from the day of purchase. The cable car operates from 7:00 am to 10:00 pm.
Book a stay at the Chandragiri Hills Resort: A better option compared to just buying a cable car ride for the day, is to book an overnight stay at the Chandragiri Hills Resort. We suggest booking the rooms in advance. Postponing the booking is also an option, so you can shift your stay by a day or two depending on the weather. If the weather looks promising for a snowfall and you are already at the resort, chances of you catching snowflakes are high! And if you know there has been snow at Chandragiri overnight, all there is to do is drive up to the Bottom Station of Chandragiri Hills to play in the snow. Booking a stay at the resort allows you to skip-the-line at the cable car, and head straight up to where all the snow is! Believe us, the snowfall and the snow-covered hills are even more magical and enjoyable from the comfort of the resort.
What to wear to Chandragiri during a snowfall?
What you wear or don't wear can ruin your snow experience. We highly recommend preparing your outfit for the occasion well in advance, so that when the time comes, you have one less thing to worry about. Below is our list of what to wear and bring to Chandragiri Hills during a snowfall:
A down jacket is a must! It is better if it is waterproof. The jacket keeps you warm and won't get wet during all the play and fun in the snow.
Wear a warm sweater or jumper underneath to provide extra protection.
Thermals are great if you have them. If not, find alternatives such as stockings or full-sleeved t-shirts.
Put on thick socks and comfortable inner-wear.
Stick to comfort and safety over style when it comes to shoes. Boots with a good grip are our go-to.
Wrap a snug scarf around the neck.
A beanie or a woolen hat keeps you warm and looks cute.
Invest in a good pair of water-proof gloves. Woolen gloves won't last long in the snow.
Sunglasses will protect your eyes from snow glare.
Don't forget your camera and your smile!
So, next winter if you want to play in the snow in Kathmandu, you know where to go. Chandragiri Hills with its proximity, amenities, and options, allows guests to enjoy winter snow in the valley in the best possible way.